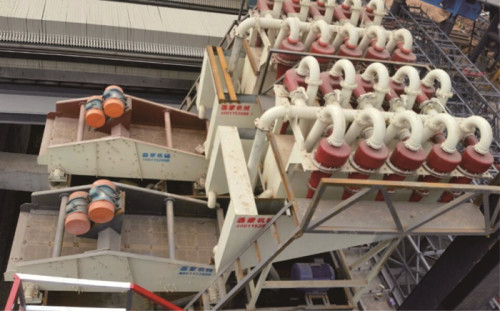 LMCX series super-fine sand recycling device
Item specifics
Application:

mud purification gravel aggregate system
Description
LMCX series super-fine sand recycling device

Products description:
LMCX series is designed with foreign advanced technology and base on china actual situation.it is widely used in mud purification gravel aggregate system for hydropower station, glass raw materials processing systems. Artificial sand production line, coarse slime recycling and environment protection for coal cleaning plant, the dry processing of metals and non- metallic,etc.
Advantage & characteristics
:
Used in quarry:
1.There are a lot of sand was flowed away in the wet-type sand making processing,it makes great pollution to the environment, LMCX system can solve this problem perfectly ,it can reduce the fine sand leaching out , solve the problem that sand fineness modulus is too high and stone powder content is too low.
2.Fine sand retrieve system is not just making full use of resources, nut also reducing the pollution ,easy the drain trap.it mostly can retrieve 90% fine sands of the total tailing.it is very technological and economical.
Used in the tailing drying system:
In the traditional mining technology, it is mostly crush the material to 0.2mm or smaller. Then extract the concentrate by magnetism or cleaning table, and building a dam for dispose the tailing, according to the national environment protection , we designed the new tailing drying system , the tailing can be piled up directly through it , so it can cut the producing cost ans control the water content of tailing, solve the pollution problem .
It is can control the tailing water content by adjusting the size of dewatering screen.

Suitable Situation
mud purification gravel aggregate system for hydropower station, glass raw materials processing systems. Artificial sand production line
Slurry pump

Dewatering screen

Capacity
(m³/h)

Cyclone

Deck size(㎡)

Power(kw)

LMCX1230-200

30KW-6

300#X8

1230

3.6

2.2X2

200

LMCX1230-300

30KW-8

300#X10

1230

3.6

2.2X2

300

LMCX1230-400

55KW-6

300#X12

1230

3.6

2.2X2

400