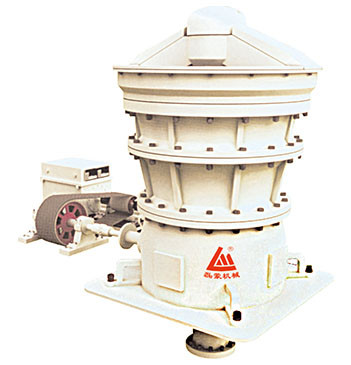 Mining Hydraulic Gyratory crusher
Item specifics
Application materials

pebble , limestone, dolomite....
Description
Hydraulic Gyratory crusher

Products description:
Hydraulic gyratory crusher has a history over 100 years compared with jaw crusher,hydraulic gyratory crusher has advantages of even final size, lower crushing wall abrasion ,higher working efficiency,and 3-4 times production capacity.
By choosing the vertical -flipping feeding method , we don't need feeding machines and storage for ore-dressing . hydraulic gyratory crusher is the first choice for large- scale mining and other industry hard material crushing.
Generally hydraulic gyratory crusher - hydraulic devices installed in the lower portion of the upcoming base to support hammer, the use of hydraulic energy storage system. Security insurance and adjustment of discharge port crusher. Overcome the unreliable original suspension axis gyratory crusher,less trouble to adjust the port of discharge,which bring gyratory crusher back to the industry.
Advantages & characteristics
:
uniform product size , high working efficiency, higher productivity
Application materials
:
Suitable for materials :pebble , limestone, dolomite, Huang Gang rock, liparite ,diabase, basalt, black ore,and so on.